The Alphapuff kit gives you less to worry about, as you prepare yourself and luggage for the road ahead of you.
"Aside from a grinder and stash space, the best cannabis kit for travel features a pack of King Size Slim papers and even tips. To access these smoking essentials, you merely unscrew the top, slide out the three small segments, and there you'll have all you need to roll a joint while traveling."
Everything you need to enjoy cannabis away from home is right here in one kit.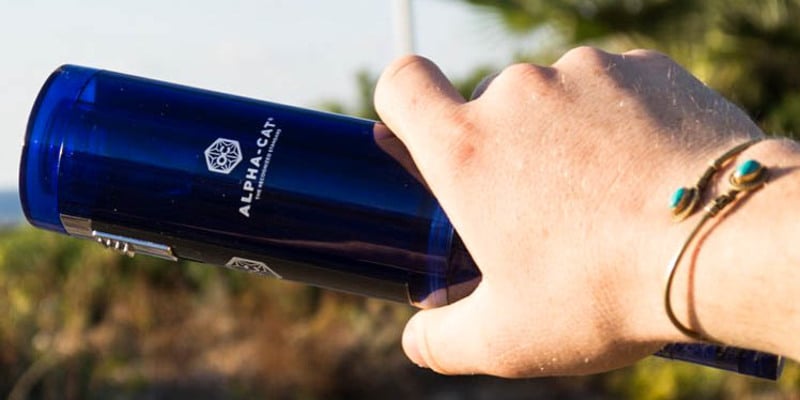 Traveling with bud alone is tough enough. Between keeping those vibrant green nugs tucked away from the public eye and concealing their aroma, a journey with weed can be a struggle. But when you also have your bong, papers, grinder, and other essentials to worry about, that's a lot of weight to carry on your shoulders. Literally. Pile in an enormous apparatus and a handful of weed gadgets on top of your clothes and whatnot, and you've just added extra pounds to your luggage. Not to mention, when carrying around so much paraphernalia, the pressure is real. The less you have to keep track of, the better, especially when you're on vacation or out of town for business. Thankfully, AlphaPuff have made it that easy..
It could be a feasible solution to pick up your necessities wherever you'll be staying, there are a few problems with that. First, you would need to know where to go. Second, you would have to spend money. Third, you would have to leave it all behind and essentially flush cash down the drain, or lug everything home with you, which defeats the purpose.
Stress not, the AlphaPuff Kit comes with everything you need for quick and convenient medication on the go.
No matter what, traveling will always be stressful in some way. But when it comes to exploring the world with your favorite herb and all the tools you need to enjoy it, you don't need to add more hassle to your trip. The best cannabis travel kit and the answer to all your travel prayers in regards to puffing on dank is none other than…